Star Trek: Deep Space Nine

-

The Maquis: Soldier of Peace

Malibu Comics

mini-series

This mini-series acts as a bridge between Star Trek: DS9 and Star Trek: Voyager. See DS9 #18 for a prelude to this mini-series.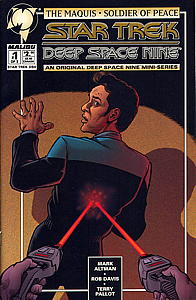 #1 Feb 1995
Vacation's over
Bashir leaves for a vacation on Risa. On the transport ship he meets Tessa Blake. She invites Bashir to her room for an intimate encounter with a phaser. Bashir awakens aboard a Maquis freighter. Tessa needed a doctor for a Maquis assault on a Cardassian prison camp, where prisoners from missing Federation and Maquis vessels have been reported. The assault proceeds far too easily and the entire force is captured by Cardassians. Stardate 48573.3

Includes "The Maquis", an essay by Mark A. Altman, and illustrations of Maquis insignia by Jim Magdaleno.

Writer: Mark A. Altman
Penciller: Rob Davis
Inker: Terry Pallot
Cover artists: Davis, Pallot

Memoirs of an invisible Ferengi
Romulans arrive on DS9 and purchase time in the holosuites, leaving a container "of immeasurable value" in Quark's safekeeping. Inside the container is a belt which makes the wearer invisible. Quark is overjoyed, but not for long.

Writers: Cris Dows, Colin Clayton
Penciller: Brian Michael Bendis
Inker: Bruce McCorkindale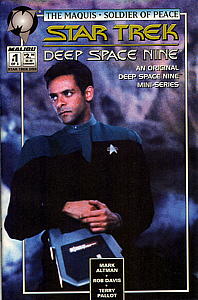 #1 Feb 1995
Vacation's over
Memoirs of an invisible Ferengi

Variant issue with a photo cover featuring Dr. Julian Bashir.

Cover: Photo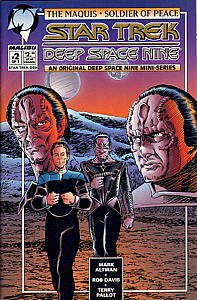 #2 Mar 1995
Rats in a maze
Bashir and the Maquis are put to work mining ore. While being questioned, Bashir boasts of having friends in the Obsidian Order. Word is sent to Garak on DS9, of Bashir's plight. Garak and Sisko set out to find the Cardassian prison in a ship procured by Quark. When they arrive, they too are taken prisoner. The Cardassian commander is particularly pleased to see Garak.

Writer: Mark A. Altman
Penciller: Rob Davis
Inker: Terry Pallot
Cover artist:

A tree grows on Bajor
Sisko and a reluctant Jake attend a Bajoran tree-planting ceremony. As his father explains the significance of the occasion, Jake is reminded of his mother and deeply moved.

Writer: R.A. Jones
Penciller: Leonard Kirk
Inker: Jack Snider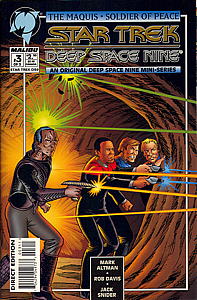 #3 Apr 1995
Victims of deceit
Gul Dulcet, the Cardassian commander, and a protege of Gul Dukat, has plans for Garak and no use for Bashir, Sisko, and the Maquis. Injured trying to help a wounded prisoner, Bashir finds himself in the infirmary where he learns that Tessa is a doctor and has cooperated with the Cardassians because they have promised to release her brother, a member of Chakotay's Maquis crew, whom the Cardassians claim to have captured. Bashir escapes and frees the others, just as Kira arrives in the Defiant. Dulcet and Tessa escape. Tessa discovers she has made a fatal mistake, and Dulcet learns that trusting Dukat may have fatal consequences as well.

Writer: Mark A. Altman
Penciller: Rob Davis
Inker: Terry Pallot
Cover artists: Davis, Pallot

The text of the Star Trek Comics Checklist is licensed under a
Creative Commons License
.