Star Trek: Voyager
Titan Books
collections
British trade paperback collections of Wildstorm comics, published by Titan Books. Titan generally uses the same cover art as the original publisher.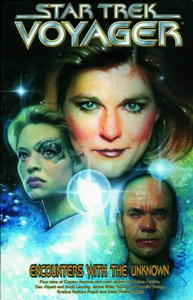 Mar 2002
Encounters with the unknown
ISBN 1840233206, 206 pp
Star Trek Comics Checklist
by
Mark Martinez
is licensed under a
Creative Commons Attribution-NonCommercial-ShareAlike 3.0 Unported License
.
This website is not endorsed, sponsored or affiliated with CBS Studios Inc. or the "Star Trek" franchise. The STAR TREK trademarks and logos are owned by CBS Studios Inc.