IDW
other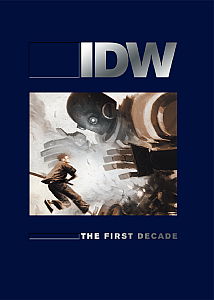 May 2009
IDW: The First Decade
Solicitation: Celebarating IDW's first 10 years, this comprehensive look at IDW is presented as a two-volume hardcover set with slipcase. Volume One includes an oral history of the company written by co-founders Ted Adams and Kris Oprisko and IDW's Publisher/Editor-in-Chief Chris Ryall that includes interviews with many major creators who have worked at IDW, including: Marc Andreyko, John Byrne, Scott Ciencen, Max Allan Collins, Simon Furman, Alex Garner, Mike Gold, Joe Hill, Brian Lynch, Jeff Mariotte, Dean Mullaney, Steve Niles, Gabriel Rodriguez, Ben Templesmith, Ashley Wood, and more, and will include a tip-in plate signed by IDW's founders, Ryall, Hill, Niles, Templesmith, Wood, and Woodward. Volume Two features every single cover published by IDW through December 2008. Over 2000 covers by some of the biggest names in comics including Clive Barker, Tim Bradstreet, John Byrne, J. Scott Campbell, John Cassaday, Richard Corben, Kieron Dwyer, Tommy Lee Edwards, Don Figueroa, Alex Garner, Mike Grell, Tony Harris, Dave Johnson, Sam Kieth, Igor Kordey, Ted McKeever, David Messina, Alex Milne, Scott Morse, Paul Pope, Gabriel Rodriguez, Richard Sala, Eric Shanower, Bill Sienkiewicz, Ken Steacy, Ben Templesmith, Billy Tucci, Ashley Wood, JK Woodward, Bernie Wrightson and many more. Also includes an all-new IDW: The First Decade comic book with all-new 5-page stories, including: Fallen Angel by Peter David and JK Woodward; Locke & Key by Joe Hill and Gabriel Rodriguez; Popbot by Ashley Wood; and Wormwood by Ben Templesmith.

Available online at http://idwpublishing.com/idwx/. Contains a chapter on Star Trek comics. Two volume set published in hardcover and an exclusive comic, all in a slipcase. 296pp, ISBN 978-1600104299

Writers: Ted Adams, Peter David, Joe Hill, Kris Oprisko, Chris Ryall, Ben Templesmith
Artists: Gabriel Rodriguez, Ben Templesmith, Ashley Wood, JK Woodward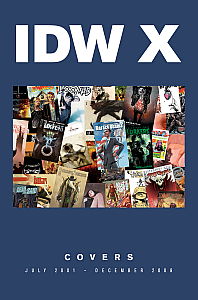 Canceled
IDW: X Covers
Solicitation: Now available in a softcover edition, this collection includes every cover done for an IDW book up through December 2008 (That's more than 2,100!). Artists include: Clive Barker, Tim Bradstreet, John Byrne, J. Scott Campbell, John Cassaday, Richard Corben, Kieron Dwyer, Tommy Lee Edwards, Don Figueroa, Alex Garner, Mike Grell, Tony Harris, Dave Johnson, Sam Kieth, Igor Kordey, Ted McKeever, David Messina, Alex Milne, Scott Morse, Paul Pope, Gabriel Rodriguez, Richard Sala, Eric Shanower, Bill Sienkiewicz, Ken Steacy, Ben Templesmith, Billy Tucci, Ashley Wood, JK Woodward, Bernie Wrightson, and many more.

Originally solicited in 2010. Contains Star Trek comic covers. Trade paperback, 148 Pages, ISBN 978-1600105883

Artists:

Star Trek Comics Checklist
by
Mark Martinez
is licensed under a
Creative Commons Attribution-NonCommercial-ShareAlike 3.0 Unported License
.
This website is not endorsed, sponsored or affiliated with CBS Studios Inc. or the "Star Trek" franchise. The STAR TREK trademarks and logos are owned by CBS Studios Inc.