Star Trek Classics
IDW
collections
IDW publishing reprints classic Star Trek comics in trade paperback.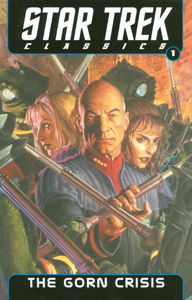 Dec 2011
Star Trek Classics Vol. 1: The Gorn Crisis
Solicitation: With a fierce war raging and resources running low, the U.S.S Enterprise has been assigned a sensitive diplomatic mission -- to enlist aid from the alien race known as the Gorn. But the Gorn have a crisis of their own, a brewing revolution in their ranks. And when it comes to the Federation, some of the Gorn have long memories...

Reprint of Wildstorm graphic novel. 104pp, ISBN 978-1613771297

Writers: Kevin J. Anderson, Rebecca Moesta
Artist: Igor Kordey
Cover artist: Igor Kordey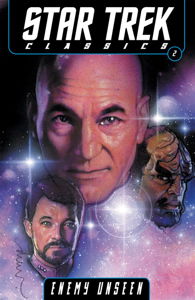 Feb 2012
Star Trek Classics Vol. 2: Enemy Unseen
Solicitation: In a long and distinguished career, Captain Jean-Luc Picard and his crew have faced uncounted foes and vanquished incredible dangers. But what happens when the enemy can't be easily seen--when it lurks in the shadows, disguises itself as polite society, or emerges from the depths of one's own mind? These are the antagonists with which the crew of the U.S.S. Enterprise must contend in this volume, the most dangerous kind of enemy--the enemy unseen. Contains the three stories Perchance to Dream, Embrace the Wolf, and The Killing Shadows.

Reprint of Wildstorm trade paperback collection. 224pp, ISBN 978-1613771310

Writers: Keith R. A. DeCandido, Christopher Golden, Tom Sniegoski, Scott Ciencin
Artists: Scott Benefiel, Dave Hoover, Andrew Currie, Peter Pachoumis
Cover artist: Drew Struzan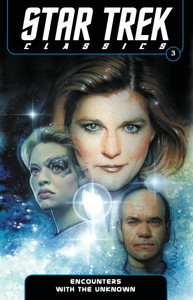 May 2012
Star Trek Classics Vol. 3: Encounters with the Unknown
Solicitation: Lost in the Delta Quadrant, Captain Janeway and the crew of the U.S.S. Voyager NCC-74656 have been seeking a way home for years. But their quest is interrupted by encounters with an astonishing variety of foes--and a few new friends. This collection contains four tales that exemplify all that's best about the adventures of Voyager. Contains the stories, False Colors, Avalon Rising, Elite Force and Planet Killer.

Reprint of Wildstorm trade paperback collection. 204pp, ISBN 978-1613772119

Writers: Nathan Archer, Dan Abnett, Andy Lanning, Janine Ellen Young, Doselle Young, Kristine Kathryn Rusch, Dean Wesley Smith
Artists: Jeffrey Moy, Philip Moy, W.C. Carani, David Roach, Robert Teranishi, Claude St. Aubin
Cover artist: Drew Struzan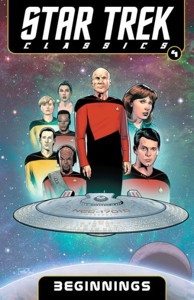 May 2013
Star Trek Classics Volume 4: Beginnings
Solicitation: Set during the earliest voyages of The Next Generation series, join Picard, Riker, Data, Worf, Troi, Yar, and Laforge as they learn about each other and encounter: A de-powered Q who seeks refuge aboard the Enterprise as he attempts to learn what it means to be mortal; A world where warriors see battle as a child's game; A world with dark secrets that threaten both the ship and crew, and more.

Reprint of DC Comics trade paperback collection. 152pp, ISBN 978-1613776711

Writer: Mike Carlin
Artist: Pablo Marcos
Cover artist: Bill Sienkiewicz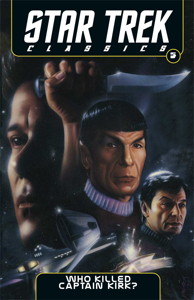 Dec 2013
Star Trek Classics, Vol. 5: Who Killed Captain Kirk?
Solicitation: Someone aboard the starship Enterprise has killed Captain Kirk--or so it seems. While the captain recovers, it falls to his crew to uncover the facts behind the case and learn whether one of their own is a cold-blooded killer. Add in the unwanted arrival of the Klingons and Kirk's nemesis from his academy days, Finnegan, to take charge of the investigation for an action packed adventure.

Reprint of DC Comics trade paperback collection. Trade paperback, 172 pages, ISBN 978-1-61377-831-9

Writer: Peter David
Artists: Tom Sutton, Gordon Purcell
Cover artist: Jason Palmer

Star Trek Comics Checklist
by
Mark Martinez
is licensed under a
Creative Commons Attribution-NonCommercial-ShareAlike 3.0 Unported License
.
This website is not endorsed, sponsored or affiliated with CBS Studios Inc. or the "Star Trek" franchise. The STAR TREK trademarks and logos are owned by CBS Studios Inc.